Everyone I know who's got married has spoken about doing their day differently. It's been important to them that their wedding totally reflects them as individuals, encapsulates their relationship and provides a totally unique experience for all their friends and family.
The average UK wedding now costs over £27,000 so you can understand why couples are keen that this once-in-a-lifetime event feels truly personal – and their day is memorable as one that was truly theirs.
I think this goes some way to explain the rise in popularity of humanist marriages in England and Wales.
According to Humanists UK, the numbers of couples choosing to marry with a humanist ceremony increased by over 240% between 2004 and 2015. Couples increasingly recognise that they are missing a trick if everything but their wedding ceremony (i.e. THE MOST IMPORTANT BIT!!!) is bespoke and designed to fit them.
I mean, why would you opt for a cookie-cutter civil ceremony that has been delivered a thousand times before when you could have a completely tailor-made wedding ceremony that has been written especially for you, and actually reflects your relationship, your beliefs and values and your hopes for the future?
And why would you choose to have a stranger there at the end of the aisle on the BIGGEST DAY OF YOUR LIFE when you could pick your wedding celebrant, and actually get to know the person marrying you?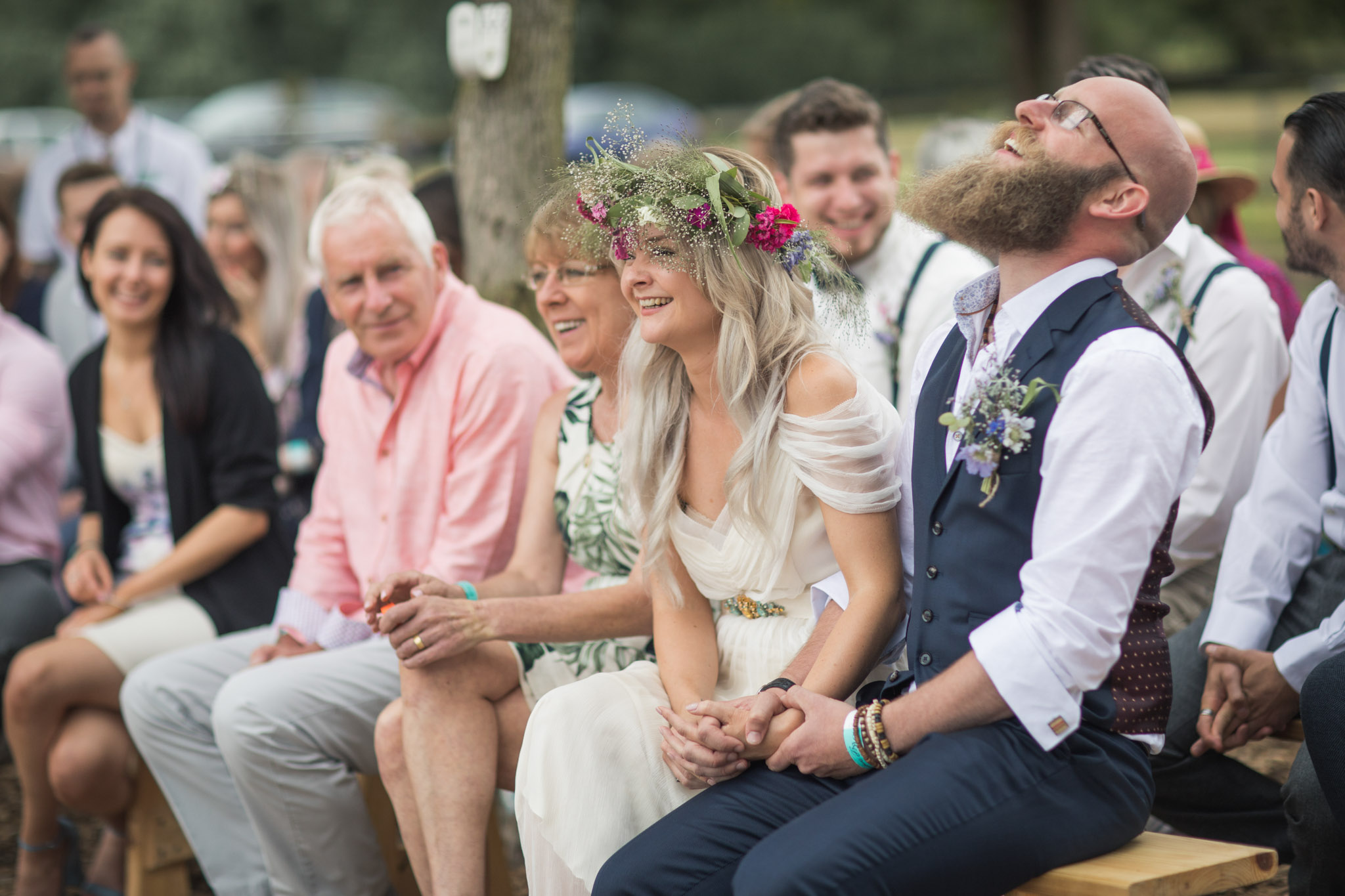 Image by Alexa Clarke Kent
Because your wedding ceremony isn't something to endure before you get to the 'fun bit' (which is definitely what I thought it was when I had my tedious civil ceremony back in 2013 – before I'd ever heard of humanist ceremonies!).
It's the whole reason you've gathered everyone you love together in one room! It's the central part of your day (and, anyway, done right, it can be THE MOST FUN BIT!). The couples I work with understand that, in going for a humanist wedding ceremony, that they have the freedom to create a wedding ceremony that really means something to them.
How do you know if you should have a humanist wedding ceremony?
These are just some of the reasons my couples give me for choosing a humanist wedding ceremony…
'We're not religious but we know we want something more special than the standard fare offered by a civil ceremony.' 
'We're in a mixed-faith relationship and want to incorporate elements from both our cultures into our wedding ceremony.'
'We're not religious and we identify with the humanist principals of kindness, compassion, tolerance, freedom and equality.'
'We just want a really personal ceremony that tells our story.'
'We want the flexibility to do what we want and get married outside'
Importantly, you don't have to identify as a 'humanist' to have a humanist wedding ceremony. However, on reading up on humanism, most of my couples do realise they are actually humanist – you can take a quiz here to discover how humanist you are!
How often in life do you get to truly celebrate life and love?
I always come back to that Maya Angelou quote:
'I've learned that people will forget what you said, people will forget what you did, but people will never forget how you made them feel.'
When I'm writing a ceremony, I want everyone in the room to really FEEL something; to feel like something truly special is happening, a change is taking place. Every single couple I've worked with has told me how much it meant to them to have a ceremony written especially for them. It's a wonderful thing to share your story with all your friends and family on the biggest day of your lives, and to express yourselves in a way that feels meaningful and authentic… and not at all crowbarred into any sort of template!
Guests often come up to me at the end of a ceremony and say they wish they'd had a humanist wedding ceremony, only they'd never heard of them before. I KNOW THE FEELING!!!
So if you're planning a wedding and you're determined to do your day differently, then consider a humanist wedding ceremony as a good place to start.  They really are the best and I'd hate for you to miss out!