'Tonight I am delivering a humanist wedding ceremony for the most famous couple on the planet. The eyes of the world will be upon me. The pressure is on and the stakes are high. Can I succeed?'
Okay. Let me rewind this beautiful love story juuuuust a smidge!
Two months ago, with every other wedding vendor happily hopping on the Royal Wedding bandwagon, I wondered how I could do the same. I'm a known bandwagon 'hopper-onner' (honestly, it's a PROBLEM) and I was damned if this Royal Wedding juggernaut would pass me by!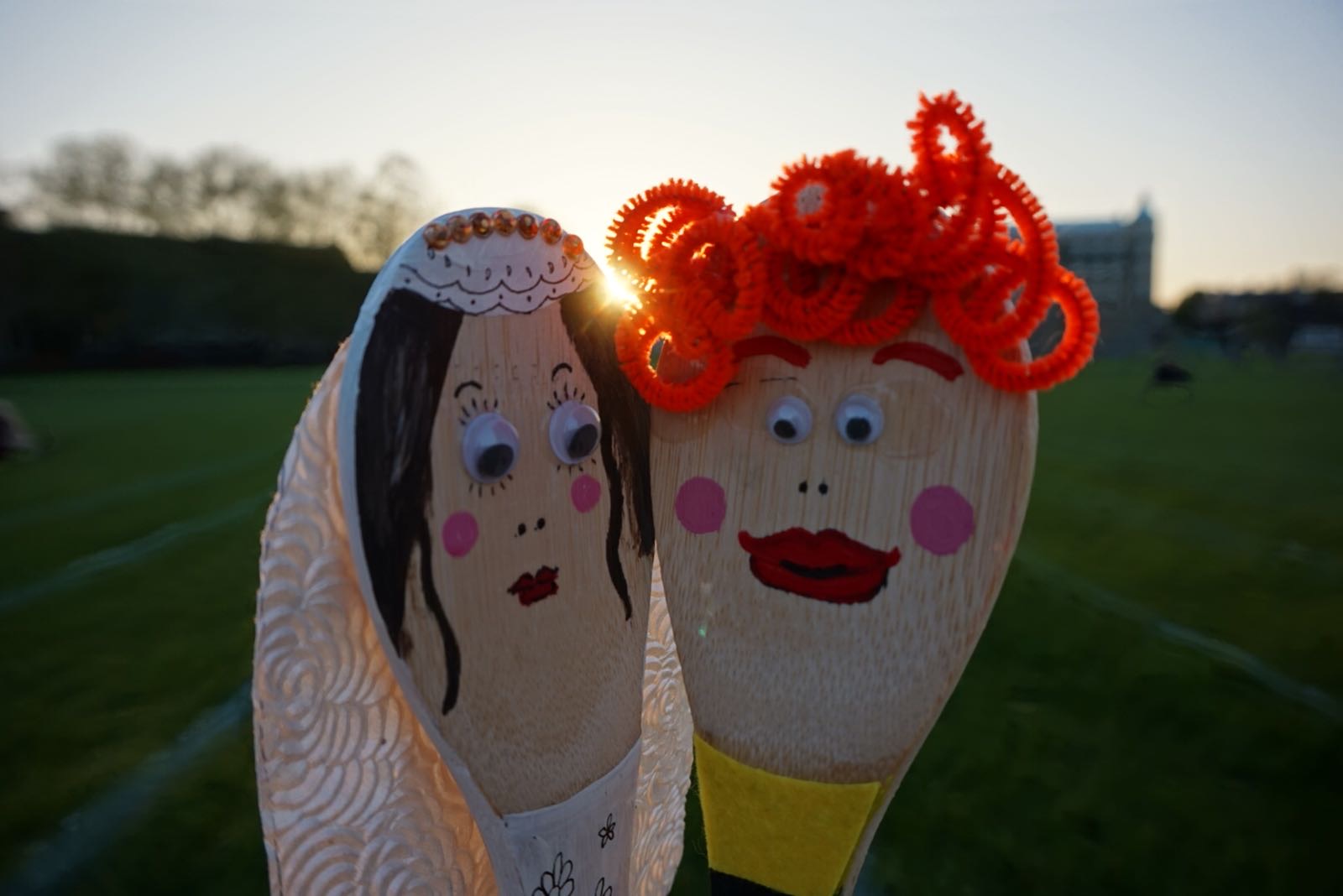 Harry and Meghan: The Royal Spoons
I'd seen cake makers offering up predictions on what Harry and Meghan's wedding cake would look and taste like, florists mocking up Meghan's bouquet… alongside plenty of other fabulous suppliers all showing off their goodies, and rinsing the big day's PR potential for all its worth!
But what could I, as a humanist wedding celebrant, deliver in a similar vein? Yes, yes, I could write an alternative wedding ceremony… but that all felt rather dry and cerebral.
And that, my friends, is when INSPIRATION STRUCK!
SPOONS, I thought, OF COURSE, SPOONS. 
Like Pinnochio's Maestro Geppetto, I would create the characters I needed for my own flagrantly self-publicising purposes.
I got myself down Hobbycraft to stock up on supplies (God I love that place) and set about creating The Royal Spoons; a family of wooden spoons for whom I would write and deliver an alternative humanist wedding ceremony.
Katie Matthews Humanist Wedding Celebrant in Cambridge park with The Royal Spoons
Since bringing the spoons into being, they have taken on a life of their own (much like the actual Pinnochio!) and I've been documenting the trials and tribulations of being a Wooden Spoon Overlord on Instagram: The sartorial decisions (very limited when your materials are poster paint and fuzzy felt), the eye-watering maintenance costs (I've spent a small fortune on sticky gemstones and PVA glue), and then… well, then, there's… KATE.
Kate has been a nightmare in the creation. A Mary Poppins-meets-Clockwork Orange HORROR SHOW.
Of particular concern has been her barnet – a thing of such beauty in real life but, in my hands, a travesty of hacked pipe cleaners and way too much sticky tape. (I'm sorry Kate. I think I failed you. But really, as a mum of three, I think there's an air of true authenticity in her haggard Spoon appearance. That's the slant I'm retrospectively engineering on her anyway).
I did attempt a Prince Louis, sourcing tiny wooden spoons from China in order to do so – talk about COMMITMENT. However, as the lovely Jordanna Marston pointed out, 'he looks like an insole… or a sanitary towel'. And so, the baby spoon idea was quietly shelved.
But over eight weeks I've become weirdly attached to my Royal Spoons.
I've spent more time with them than my actual friends and family and, like the creepy subject of a Channel 5 documentary, I've started treating them like they're real people.
There was the time I asked my husband to create tiny wooden stands for them, to allow them to stand independently, and without my assistance (FLY MY PRETTIES), and then last week a (very patient) friend and I took the Spoons into into town for a joint hen and stag party.
And tonight – THE ROYAL SPOONS WEDDING – is what all this w̶e̶i̶r̶d̶n̶e̶s̶s̶ hard work has been building up to. Tonight I will be seeing the happy couple off in style with a super-personlised and (I hope!) FUN humanist wedding ceremony.
I would LOVE it if you could be there to watch along! I'll be LIVE ON MY FACEBOOK PAGE Friday 18th May at 9pm! If you miss the live, you can catch the replay!
Hopefully see some of you there.
MWAH!