Have you ever seen something so wonderful and well-executed that you think "Well, I've just GOT to find out some more!"? And then you've found out some more and fallen even deeper in love with the enter enterprise, ethos and owner? That's me with The Roaming Caravan Co. and its founder, Narelle.
The Roaming Caravan Co. started out with a beautiful Sprite 400 caravan in gorgeous mustardy tones – and if this means nothing to you, all you gotta do is look at the pic and know that this beauty is called MARGOT – but has since grown into a full wedding and events styling and hire company at the helm of the wonderful Narelle. (She also offers d e l i c i o u s modern calligraphy – IS THERE NO END TO HER SKILLS? LEAVE SOME FOR THE REST OF US HEY BABES?) With a superb eye for style and the loveliest of manners, she's doing us all an absolute solid by bringing aaaaaaall the super cool Australasian wedding vibes over to the UK. Thank you, Narelle, for your public service – now let me fawn over you, k?
Tell me how The Roaming Caravan came about – give me your origin story!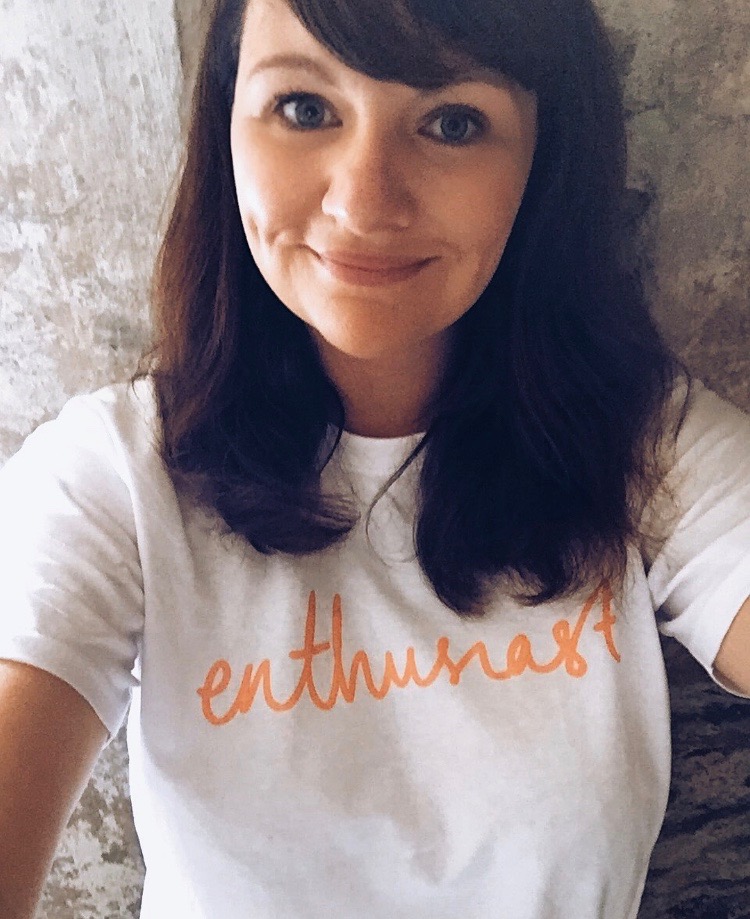 Narelle, founder of The Roaming Caravan Co.
Oof! It's a long one! It all stemmed from living out in New Zealand. After I graduated, we went travelling for six months but ended up falling in love with NZ, so stayed there for four years. My background is in events and marketing and I worked in various roles all around NZ including working in marketing for a ski season in Queenstown (jammy sod).
Whilst out there, and doing the whole 'figuring out what I wanted to do with my life' thing, I saw various event and wedding companies with these caravan bars – and thought how cool they were. Fast forward two years, we moved back home, bought a caravan on a whim off eBay and the rest is history!

What do you think makes you stand out from every other event company/ mobile bar?
Quite a few things actually!
For a start, we actually care. I think a lot of people start up in this business thinking it's an easy quick money maker (HA! spoiler alert – it's not) and that they can do multiple events over a weekend, serve the cheapest stuff, charge the highest prices and bugger off once it's all over and done with. Whereas our approach is all about the couple, their day and how we can make it the best it possibly can be.
I also really keep on top of current trends. After living and travelling around Australia and NZ, I'm always looking to them for inspiration and trends. They just do it all cooler don't they?
What services do you offer?
I never really expected to grow the business the way it has done, but, as we did more weddings, I found my couples asking if I could source items and provide signage for them, style their wedding, and help with planning and suggesting other vendors. So yep, we're now officially an event hire company. We offer The Caravan Bar, alongside Furniture/ Props hire and Styling, and Signage. Ask me to do something else and I'll probably say yes. I've been asked to be a master of ceremonies next year (for real) so nothing is really off limits. I seem to want to do it all!
What do you enjoy most about your job? And what do you not like so much?
I just bloody love meeting the couples who GET it and just want their wedding or event to be a reflection of them. (YES BABES!) I often meet them a few times before their wedding and I get to meet their families and friends, so on the day, you just feel super happy for the couple. Everyone's surrounded by love and we're the ones making it look pretty and plying them with booze – it's amazing! I don't like the admin side of things. If my job title could be 'making shit look pretty' I would love it, but, yeah, the admin is always a drab. And washing cups after the weddings when there's chewing gum stuck on them… that's a low point.

You've been going for a couple of years, what lessons have you learned about running a small business in that time?
Two years in October, Baby! They say the second year is the hardest but, if I'm honest, I've found it a breeze compared to the first year. Saying that, there's a few things I've learnt:
Listen to your gut – if you think somethings off then it most likely is;

Be careful who you let 'in' – finding the people who get you and your business is invaluable, but be a bit careful who you release certain information to as it can come round and bite you in the bum (not bitter or anythingggg);

And it's true when they say it consumes your whole life. I don't think I've talked about anything else other than my business for the last two years. It really is all consuming – so be prepared for that.
Have there been any standout moments since you launched?
The reviews we've had this year have literally made me cry (which isn't hard as I'm a sensitive sally). It makes it all worth it and I'm super, super grateful that lovely people choose us for their wedding, and then take the time out to write amazing stuff about us. My old bosses would never say anything half as good as them, so it makes me think I'm doing the right thing!
You're now getting married yourself, how has being a wedding vendor influenced how your own big day is shaping up???
CAN YOU BELIEVE IT? WHAT A FOOL MY FIANCÉ IS! But yeah, I got engaged in June and have been too busy to start planning my own wedding but *fingers crossed* we think we found the venue so now it's all systems go from there! Being involved in weddings day in day out it's easy to get bombarded with everything and I'm also like I'LL JUST DO IT ALL AND MAKE ALL THE THINGS, but realise that can and will get super stress-y so I'm hoping to rope in a few pals to help with certain things.
I think finding vendors who care, who want to do the best they can for you and who understand your 'vision' are really important. I've made some incredibly talented friends and Insta friends working in this industry so hoping to get those on board too and just throw one massive party!
What's next for The Roaming Caravan (can you let me in on any secret plans!!!?)
Well, as well as moving into our first home that we've bought (EFF YEAH) and getting married in 2019, I also want to take The Roaming Caravan Co to the next level business-wise. I'm gonna get myself a branded van (toot toot!) in the new year for all the amazing furniture and props we have and I'm currently on the hunt for an amazing workspace where I can have the caravan, our furniture, props and signage in a one-stop-shop and hold client meetings and workshops in – that's the dream! I've been working on that over Winter, ready for a friggin' awesome 2019!