If my husband tells me one more time that Mother's Day is just a cynical ploy by our capitalist society to encourage us all to buy more "tat", then I think this year I'll finally have to leave him!
I LOVE MOTHER'S DAY.
I can't say I was all *that* into it before I became a mum myself, and realised what all the fuss was about! I mean, I would chuck a bunch of flowers, or a card, my mum's way (see aforementioned TAT), but it was much a day like any other.
Since having my son two years ago, I have a whoooooooooole other level of respect for my mum, and have subsequently upped the ante in terms of year-round adulation.
And I now see Mother's Day as a fantastic opportunity for my husband and son to bask in the glory that is my own motherly majesty, preferably while treating me to a pub lunch…
***Oh no, scrap that last bit. Our two-year-old is too badly behaved to be let loose in public… (Bit of a way to go on the mum-ing front yet).***
As a PROFESSIONAL CELEBRATOR, it won't surprise you to hear that I'm a big believer in marking the big days and the special moments that matter, and basically celebrating the shit out of life whenever you can… to the absolute hilt!
When we had our son we leaped at the chance to have a humanist naming ceremony for him in lieu of a more traditional Christening, which would have been totally wrong for us as we are not in the slightest bit religious.
We ended up having a pig-themed (!) naming in our back garden, which we combined with our son's first birthday party. The day was very informal. Our dogs were running around the garden dropping tennis balls in our guests' laps and generally making a nuisance of themselves! During the ceremony, my husband and I spoke about becoming parents to our 'little pig', and what that meant for us; we appointed guide parents, who made their own promises to our son, and, of course, we officially named him!
Then, we had a lovely barbeque and booze up in the sunshine, with all our friends and family still in their mad pig costumes.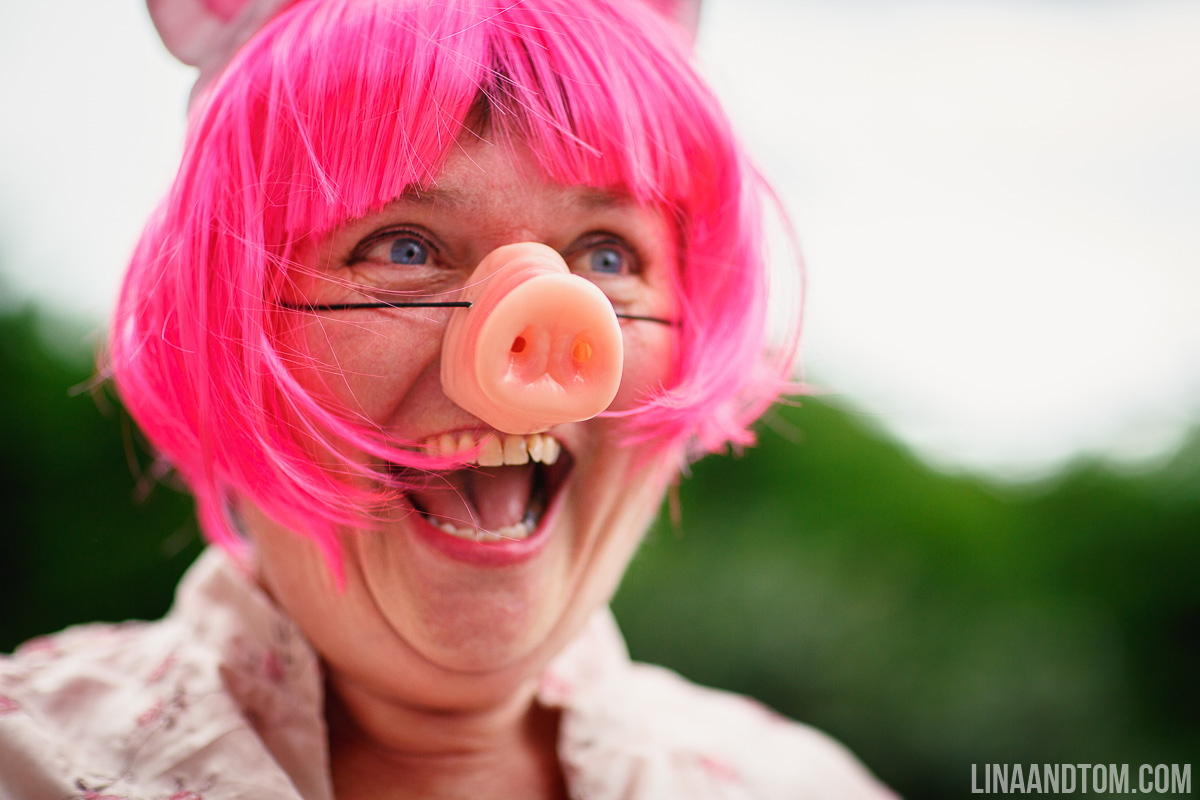 Our baby naming perfectly captured the spirit of ever-so-bonkers little family, with words, readings and music that we had chosen and all the special people in our life there.
It was such a wonderful day.
Since becoming a Celebrant myself, my mission now is to SPREAD THE WORD about humanist baby namings! When I speak to people they invariably love the idea of a naming (of course! what's not to like?!). They just wish they'd heard about it sooner! They are such a fabulous alternative for non-religious, or mixed faith, parents who want to do justice to the life-changing, mind-bending, PURE MADNESS that is becoming a parent, and celebrate their newest arrival in a way that feels meaningful and personal to them.
So this Mother's Day – with CELEBRATION in the air – I'm offering a 10% discount for anyone who books a Naming ceremony between now and April 11th 2018. Just get in touch with the discount code BabyNamingsFTW!
I'll be live on my Facebook page tonight (11 March 2018) talking more about baby namings – why they make a great alternative to Christenings, what elements you can incorporate into your naming and how you go about organising one!
MWAH xxx